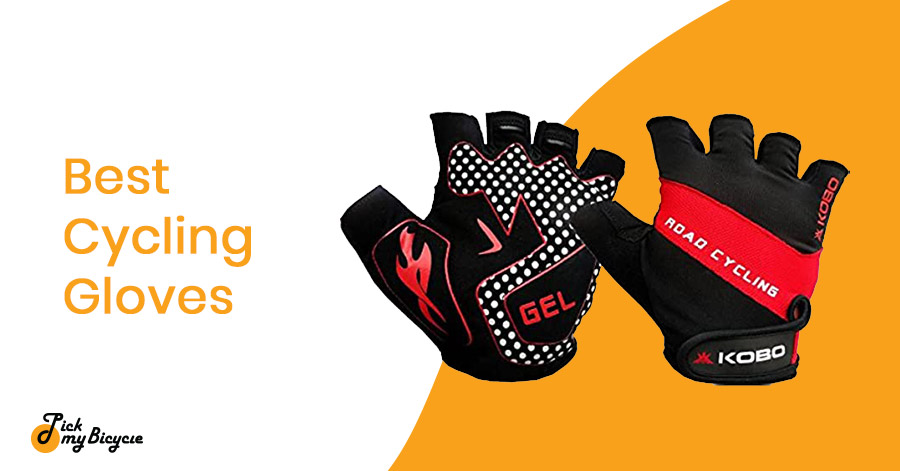 Best Unisex Gloves for Cycling
The cycling gloves are specially designed for rider comfort and protection. Wearing gloves gives you confidence while riding as it provides proper grip and control between your hand and your handlebars.
Cycling gloves are designed in different models considering the temperature, grip, comfort, and durability. No matter the type of bike your ride, wearing gloves will give you a comfortable riding experience.
If you are new to bike riding and not familiar with gloves don't worry we have reviewed some of the best cycling gloves in the market. If you are already using cycling gloves and looking for a better one you would also benefit from our review.
Best Cycling Gloves Reviews For 2023
1.B-Forest Lyna Winter gloves
B- forest Lyna winter gloves are light in weight which gives full coverage to your hand ensuring complete protection on the ride. The texture of the gloves is soft, breathable, and anti-abrasive it is made of highly elastic microfiber. Bringing better firmness to the gloves it comes with powerful shock absorption, anti-slip, waterproof, and reduces road vibrations and hand fatigue. It is the perfect waterproof glove with a windproof zipper feature that reduces extra tension in your cycling.
This is one of the best cycling gloves that provide you with non-slip silicon touch-sensitive pads, through which you can easily touch and access your smartphone, tablet, and so on. Overall, Lyna winter gloves are suitable for cycling, driving, hiking, climbing mountains, skiing, and driving in cold weather.
Info
Hand Orientation: Ambidextrous
Closure type: Hook
Color: Black
Pros
High elastic microfiber

Highly waterproof fabric

Can access touchpads

Shock absorbent

Has gel in gloves for bearing stress

Windproof zipper
Cons
Zip may get damaged after use
2.Boodun Road Racing Gloves
Boodun is one of the best cycling gloves that are suitable for traveling on roads and mountain areas. There's a shock-absorbing gel pad that reduces stress and enhances grip for the hands while riding. This is a half-coverage hand glove designed efficiently for sunny day rides. The Boodun cycling glove has an 8mm dense shock-absorbing elastic pad in the palm area that will reduce your stress while riding.
The upper layer of the glove is designed with Lycra material which maintains the soft texture of the glove. This will help to keep your hand cool, allow you to stretch freely while wearing the gloves, and let your hand breathe. A velcro strap is placed for setting and adjusting the glove in your hand.
Info
Hand Orientation: Ambidextrous
Weight: 0.01 pounds
Colors: Green, blue, and white
Pros
Absorbs impacts

Stretchable and breathable material

Comfortable fit
Cons
Need more padding

Not sweat proof
3.Seal Skinz Unisex Waterproof All Weather Glove
Seal Skinz is considered one of the best cycling gloves that are specially designed to survive in all types of weather. It is made of a goatskin leather material which naturally gives perfect grip and comfort for the gloves. The finger parts of the gloves are designed in a curved type which provides excellent durability and control.
Seal Skinz is a waterproof-based glove that has an inbuilt three-layer construction for warmth, durability, and waterproofing. By wearing these gloves you can access the touchscreen but only through your thumb and index finger. These gloves are suitable for any season, so you can even wear this throughout the year for your bike trips. Additionally, many users have rated this as the best deep winter cycling gloves as it has provided excellent support during the snowy season.
Info
Hand orientation: Ambidextrous

Weight: 100 grams

Color: Black, and grey
Pros
Suitable for all weather conditions

Pull up open and close type

Goat skin leather material

Three-layer waterproof structure

Access touchscreen
Cons
Touch screen is accessible only with the palm and index finger
4.Tofern Cycling Gloves
Tofern cycling gloves are one of the best cycling gloves that give full-hand coverage These unisex mountain bike gloves are designed using premium microfibre material. Its microfibre material makes the glove breathable, scratch-resistant, and comfortable.
The fingertips of these cycling gloves are notably made with an anti-slip design to keep up the grip on the cycle handlebars.
The gloves are touch-screen friendly and you can access your electronic devices with all five fingers. It comes up with a velcro pad for opening and adjusting the glove in your hands. Having all these most needed professional specifications this Tofern cycling glove is considered one of the best cycling gloves on the market. You can use these gloves for cycling, workouts, and other outdoor activities.
Info
Hand orientation: Ambidextrous
Weight: 0.07 kilograms
Colors: Green, yellow, and light red
Pros
Breathable microfibre material

Shock absorption

Anti-slip fingerprint design

Velcro hand adjustment

Smart touchscreen technology

Daily useable
Cons
Too thick and bulky

Color prints may get tarnished over time
5.Luxo Bicycling Gloves
Luxo is one of the best gloves for cycling that is suitable for road and mountain rides during the summer season. This glove gives half-finger coverage for your hands and the breathable pad provides the proper grip. On observing its anti-slip and powerful grip on the road ride, this Luxo glove is considered the best glove for hand numbness.
The palm area has powerful shock-absorbing control over the pit and bumps in the road. This provides maximum grip on the handlebars while riding. There's a lycra material present at the back of the glove that gives us breathable comfort. The glove has a hook and loop closure for hand adjustments. There's an absorbent towel cloth in the thumb area to wipe off the sweat easily.
Info
Hand Orientation: Ambidextrous
Weight: Lightweight
Colors: Black, Green, Blue, Grey, pink, red, turquoise.
Pros
Moisture absorbing pads

Microsuede palm

Enhances flexibility and sensitivity.

Breathable

Prevents numbness

Anti-slip
Cons
Padding is not enough

Can be too firm for some riders
6.Moreok Cycling gloves
Moreok is one of the best cycling gloves especially known for its professional and outstanding design. This best unisex bicycle glove is made up of highly elastic lycra material. The palm part is made of durable microfiber cloth. Along with that, it has 3 panels and 5mm shockproof gel pads, which relieve pain and fatigue. It is one of the best cycling gloves for hand numbness as it also reduces road vibrations and impacts.
There's an absorbent towel cloth present in the thumb area to wipe off the sweat. The glove can be adjusted using its special elastic fabric patch for easy removal. Moreok has the lycra spandex material for better performance. It's a perfect sports glove for cycling, workouts, climbing, hiking, and all outdoor activities. This is a great choice for people who prefers lightweight gloves with more stability and performance.
Info
Hand Orientation: Ambidextrous
Weight: 30 grams
Colors: Available in many colors
Pros
Lycra spandex

5mm thick shockproof gel pads

Breathable mesh material

Easy take-off hooks

Anti-slip coating

Microfiber cloth with air holes

Durable and flexible

Easy sweat wipe towel

Less weight and highly durable
Cons
May get damaged on constant use in a wet area
7.Yygift Full Finger Gloves
Yygift cycling gloves are one of the best cycling gloves as it has a powerful Anti-shock SBR mat for a better riding experience. There's an ultra-fiber lycra material padded in the palm area which protects our hands from uneven road shocks and forces. The anti-slip printing is present in the fingers for perfect grip on the roads.
This microfiber material of the glove protects and maintains our hands to stay dry and clean throughout the ride. It is a unisex cycling glove designed to provide you with better comfort for other activities such as riding, skiing, weightlifting, running, and fishing.
Info
Hand Orientation: Ambidextrous
Weight: 0.09 kilograms
Colors: Gorgeous pink color
Pros
High-quality microfiber

Velcro for hand adjustments

Wear resistant

Soft lycra fabric

For both men and women
Cons
The color may get tarn after several uses

May feel difficult to remove
8.Beace Cycling Gloves
Beace is one of the best cycling gloves that are suitable for road or mountain cycling rides as it comes with a powerful shock absorbing SBR pad. The palm area is infused with a double-stitched material for better protection and tiny holes for maintaining breathability throughout the ride.
The easily adjustable hook-off part helps to fit and adjust the gloves in the hands properly. The glove has a sweat towel in the thumb region which wipes off the sweat easily. There's a layer of microfiber present between the thumb and index finger to get better resistance while riding. This glove has a gradient printing design at the back which looks normal in sunlight and glows in low or dim light areas.
Info
Hand orientation: Ambidextrous
Weight: 0.04 kilograms
Color: Available in several colors
Pros
Shock-absorbing SBR pad

Stretchable lycra material

Breathable and anti-slip

Colorful night glow

Easy hook-offs

Double stitched palm
9.Soule Sports Cycling Gloves
Soule sports cycling gloves are one of the best cycling gloves notable for their stylish outer design. This glove suits for riding on the road or in the mountains during the summer season. It is made up of a breathable microfibre lycra material to keep your hands free from moisture. There are ventilating holes in the fingers to maintain your hand arable and fresh.
This is padded with foam which is anti-slip, shock resistant and reduces stress during rides. The reflecting straps present in the fingers glow in low light. There's an easy sweat wipe-off cloth in the thumb region and an adjustable hook and look for a comfortable ride. This can be used for cycling, workouts, weightlifting and other outdoor activities.
Info
Hand orientation: Ambidextrous
Weight: Lightweight
Colours: Blue, Green, Red, White, Black
Pros
Wear resistant

Breathable

Stretchy fiber

Sweat off thumb cloth

Shock absorbent

Lightweight
Cons
Stitching may not be long-lasting.

Padding is not enough
Frequently asked questions
1.Which type of gloves is best for bike riding?
Padded gloves are considered the best for bike riding. You can enjoy your long tides without any discomfort to your hands as it provides a better grip for the handlebars.
2.Should cycling gloves be tight or loose?
The gloves should be fit enough so they don't end up scrunching and causing injury. But you should not wear gloves which are too tight as it will cause your fingers to taunt.
3.Do I really need cycling gloves?
Gloves are necessary for long-road cycling if you want to protect your hands during impacts. It also provides you with comfort, safety, and damping.
4.Do cycling gloves make a difference?
Wearing gloves will not make you a professional cyclist but wearing this during the ride enhances grip on the handle and provide you with a completely safe riding experience.
5.Why do cycling gloves have loops?
Another great feature in gloves is finger pull loops. These prevent the dreaded inside-out syndrome of pulling your sweaty gloves off.
6.How often should I wash the cycling gloves?
Gloves absorb sweat, dust, and many other things while riding so it is advisable to wash them after every long ride. If you ride often wash them once a week.
7.How much do cycling gloves cost?
The average price of cycling gloves starts from $15 and goes above $200 according to the quality and features you're looking for.
Buyer's Guide to Purchase the Best Cycling Gloves
Before jumping to a conclusion here are some more points you need to remember while purchasing a cycling glove.
Check whether the glove suits the weather condition in which you are yet to travel and choose according to that
Should have a high-quality microfiber material. It should suit your skin, and be comfortable while riding without causing itching or aches to the hand
Must be shock resistant, anti-slip, breathable, and should provide comfort during a firm grip
You can choose a glove that withstands all temperatures and specifications if you travel constantly. But sometimes when we use full coverage gloves in summer it becomes wet due to sweat leaving the hand. So choose a perfect sweat-free/ waterproof glove
Must have a durable gel pad to prevent injuries, keep your hand cool, and for a powerful grip as you would probably wear the gloves throughout the ride
Check whether the glove has a touch sense effect in it. As you are riding you may check the location through your mobile. To access your mobiles/tablets your gloves should have a touch sense finger pad in them
Comparison of the Best Cycling Gloves
Conclusion
The best cycling gloves are essential for both men and women who are into adventure rides. Not only for cycling but the gloves suit for gym workouts, training, weight lifting, skiing, fishing, and all the outdoor adventure activities. Don't skip on the gloves while you are into any adventurous activities.
We hope our reviews of the best unisex bike gloves for 2023 will help you pick one according to your preference and comfort.