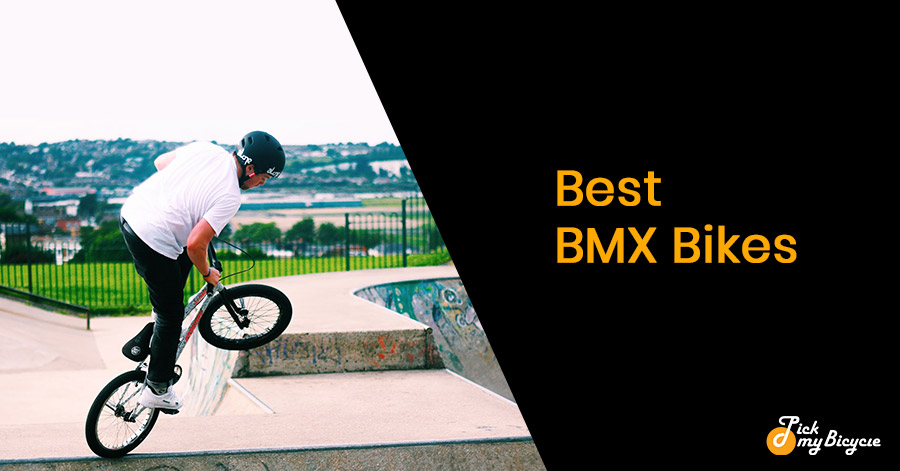 Best BMX Bikes For Every Experience Level
BMX bikes are popular for racing, performing various stunts, and even as a mode of transportation. One of the best things about BMX bikes is that, unlike regular road bikes, they can be used effectively on a variety of terrains. They are designed to be resilient from all angles and to keep the rider balanced as they flip around.
When it comes to BMX bikes, there are numerous options available. This article will give you details of some of the best BMX bikes of 2023 in every category so you can find the one that meets your needs. Let's take a look at the best budget BMX bikes on the market.
Best BMX Bikes of 2023
Best BMX for Adults
In this section, we'll see the BMX bikes that are suitable for adults.
If you're looking for a reliable BMX bike for freestyle, the Elite BMX Stealth Bike is a great choice. This best BMX bike for adults is simple to assemble, making it an excellent choice if you want to get started with cycling right away. With wide 2.4" wheels, it includes pegs for getting started with beginner tricks. For durability, the bike's frame and fork are made of Hi-tensile steel (20-inch top tube) and Cr-Mo, respectively.
Highlights include a steel frame with a 1-inch headtube, a Stealth Alloy top load stem, 25-9 gearing, and low profile 6061 rims wrapped with 2.4" tires. All bikes include a set of grinding pegs. It features a micro knurled surface on a directional tread as well as angular raised tread sections. Overall, this best BMX bike for adults is the best beginner-level bike available and performs admirably on both street and rough terrain.
Main features
Thick foam padded seat with Elite BMX embroidery and a lightweight 25.4mm alloy post
20 x 2.4-inch tires are mounted on aluminum alloy rims that provide a large surface area for stable landings and comfort
Bike's center is very smooth for speed, and the square-cut sides provide enough grip when turning in the corners
Handlebars are held in place by a top-weight stem that is light enough for an inexperienced rider
Three-piece crank with an unopened bottom bracket for stability
Additional Info
Available colors: Celest, copper, matte black, pink, red, stealth
Warranty: Limited warranty
Assembly: With simple assembly instructions, you can assemble this yourself with the right equipment or have your local bike shop do it for you
Pros
Adjustable handlebars
Easy to assemble
High-performance
Cons
Seat is not comfortable for tall or a person who is heavyset
Mongoose Legion BMX Bike is another best BMX bike for adults available in the market at a reasonable cost. It is made of a Hi-Ten steel frame, sharp headtube, and brake mounts that are removable. When you're riding hard over big jumps, you want to know your parts are going to last.
You also get aluminum U-brakes and brake levers for precise speed control, but the brake hardware can be removed if you want to go brakeless. Overall, this best BMX bike for adults is well worth considering if you're looking for a well-rounded BMX that can handle a variety of terrain.
Main features
Precision speed control is provided by aluminum U-brake
Threadless headset for highest steering performance
25x9T gearing, 170mm hollow spindle cranks, and American loose ball bottom bracket provide a clean, and dependable drivetrain
Additional Info
Available colors: White, black teal, blue, green, red, silver, teal, white
Warranty: 5-year limited warranty
Assembly: An easy assembly task will take 15 to 20 minutes
Pros
Good in quality

Comfortable to ride

Easy to install

Strong brake levers
If you want a lightweight BMX bike that is also faster and within your budget, then the Framed Impact BMX Bike is a great choice. These best BMX bikes for adults are made with Hi-ten frames and forks and are paired with 8-inch wheels. A professional bike mechanic will have all of the necessary tools and knowledge to assemble your bike quickly and precisely. Overall, this best BMX bike is designed for adults and youth who want to get into BMX and advance their skills.
Main features
Framed alloy rear U-brake is directly mounted to the bike frame and provides consistent stopping power
Rise handlebars provide a smooth and comfortable ride in the city or the park
Additional Info
Available colors: Army green & black/white
Warranty: Contact customer support
Assembly: Partially assembled
Pros
Quick assembly

Smooth ride

Reliable stopping power

Reduce vibration

Brake adjustments
BMX for Professionals
In this section we'll take a look at the BMX bikes that are suitable for professionals.
Mafia Kush2 is an entry-level best BMX bike for professionals that produces high-quality freestyle and street bikes. It's made of high-tensile steel with three-piece cranks and a sealed bottom bracket. This BMX bike is only ridden for off-road use. It not only looks stylish, but it also has a feature that adds to its elegance. The BMX U-brakes provide added security and safety.
A padded fixed seat, logo-stamped gussets, double-wall rims, and curved seats are included. Also, the BMX bike comes with colored fat Lagos crawler tires, an internal headset, a top-load stem, a sealed mid-BB, and 4130 3-piece cranks. On the whole, this best budget BMX bike benchmark that everyone is talking about. It not only looks great, but it also has the component specs to back it up.
Main features
Single-wall alloy front rim and double-wall alloy rear rim perform well
BMX geometry is precise and light, with a super-smooth ride
Comes with a fully integrated headset for added convenience
Additional Info
Available colors: Gray
Warranty: Contact customer support
Assembly: Easy to assemble
Pros
Lightweight

Comfortable

Easy to ride

Strong U brakes
Cons
Lack of instructions in the manual
Mongoose Elite Pro should be on the top of your list as it's great in terms of price, features, and performance on the market. It is designed for newcomers or those returning to the sport. With a lightweight aluminum frame, this best BMX bike 2023 has everything you could want. The construction is strong enough to allow you to cruise through traffic on your way home from work in style.
When you're riding hard over big jumps, you want to know your parts are going to long last and keep you safe. This bike features a sleek look with the Xposure double-walled aluminum rims fitted with Arisun 20-inch tires, 16T cog sealed rear hub, and hollow axle sealed front hub. Even if you want to take on the hills or become an urban adventurer, the best BMX bikes for professionals will always allow you to do so.
Main features
Equipped 3-piece tubular Chromoly cranks for excellent power transfer
Alloy V-brakes and levers to provide the quality control required by riders to maintain a consistent speed
Shimano's BB86 road bike press-fit system designed to improve performance
Handlebars and stems of this bike are made of Hi-Ten steel for excellent steering
Internal cable routing and integrated headset for clean lines and maximum protection
Additional Info
Available colors: Black
Warranty: 5-year limited warranty, 1 year on normal wear parts
Assembly: Simple to assemble
Pros
High performance for riders

High-quality construction

Incredible stopping power

Easy to assemble
Cons
Small plastic pedals can sometimes detract from the experience
Redline Roam is one of the best BMX bikes for professionals which is a race-inspired bike at an affordable cost. It is made of a high-tensile steel frame, which is durable, sturdy, and long-lasting. The Roam has a freewheel for those who want to move on from coaster brakes. The bike has a stealthy swagger that distinguishes it from other racing bikes on the market.
You can keep your jumps low and tight with this BMX bike. The frame of this race-winning machine is stiff and powerful. Riding in an upright position is ideal for aggressive riders. Young riders will have a blast riding this best BMX bikes of 2023. Overall, this bike will allow you to hone and show off your skills to the crowd.
Main features
Equipped with a taller handlebar for improved maneuverability
Racer graphics add a touch of style, and the bike is equipped with 20-inch alloy rust-resistant wheels
Integrated with a head tube, and high-quality three-piece cranks
Includes sealed hubs and a 100 % Chromoly tapered race fork for added performance
Tektro braking system provides good stopping power and speed
Tioga's Powerblock tires cover the rims, providing great stability and speed while riding
Additional Info
Available colors: Blue & grey
Warranty: Limited lifetime warranty
Assembly: Easy to assemble
Pros
Budget-friendly

Quick assembly

Lightweight

Rust-resistant

Give immense stopping power
BMX for Kids
In this section, we'll take a look at the BMX bikes that are suitable for kids.
Huffy's Enigma is one of the best BMX bikes for kids on the market. It's built for speed and agility, with a powerful and weightless aluminum frame. The alloy single-wall rims are strong and lightweight, and they are paired with tires that provide superior traction and pace.
It rides on 20" x 1.95" tires mounted on aluminum alloy single-wall rims. They provide a stable platform for BMX racing, and their lighter weight improves handling and speed. This best budget BMX bike is suitable for children aged above 5, with a rider height of 44 inches or higher.
Main features
ATB seats and Kraton grips for maximum comfort
3-piece steel crank and 44T chainring for easy BMX freestyle
Rear wheel's linear-pull V-brake provides excellent speed control while being low-maintenance
Euro cartridge bottom bracket provides smooth performance with minimal maintenance
Chain tensioner gives way to quick rapid speed changes, ensuring peak performance
Additional Info
Available colors: Matte Black & gloss black
Warranty: Limited lifetime frame warranty
Assembly: Easy to assemble
Pros
Wheel sizes for children of various ages are available.

Kickstands are included

Gears make starting easy

Great performance
Cons
Some children may struggle with the kickstand
Searching for the best BMX bikes for kids? Then, this Avasta Freestyle BMX Bike is a great option and it comes in multiple colors. The frame is made of strong Hi-Ten steel to provide you with reliable support and long-lasting comfort on the street, park, or trails.
Speed control is provided by an aluminum U-brake, while the handlebar and fork are connected by a 45mm stem. The BMX bike has four pegs for performing more tricks. In order to play an effective role, this best BMX bike for kids gives amazing balance.
Main features
Wheelset has mounted aluminum 36H rims, a rear M14 axle rear hub, and a 9T rear hub with a cog sealed holding cassette
Aluminium linear-pull U-brake on the rear wheel provides excellent speed control
Threadless integrated headset provides good steering performance
Additional Info
Available colors: Black, cyan, grey and more
Warranty: Limited lifetime warranty
Assembly: 85% pre-assembled (assembly tools are not included)
Pros
Excellent performance

Durable frame

Simple linear brakes

4 freestyle begs

Flexible handlebars
JOYSTAR PLUTO 2.0 BMX Bicycle is the best BMX bike for kids that is stylish, and magnetic. The brake lever of this bike enables small riders to use it effectively. Also, there are detachable training wheels included. The handlebars and seat height are all adjustable and come in sizes of 14, 16, 18, and 20 inches. The quick-release seat makes height adjustment easier, allowing you to adjust the saddle as your child grows.
By grabbing onto the saddle with the holder, they learn how to ride. These best budget BMX bikes are equipped with safe brakes for young riders lacking strength in their hands, allowing them to stop using both brakes simultaneously instead of just one. The tires are black, which keeps them looking new for a long period of time. It also has a non-slip resin pedal, an enclosed chain guard, rear and front reflectors, and wheel reflectors.
Main features
Front hand brake, as well as 2.125" wide pneumatic tires, provide more stopping power and safety
Single-speed drivetrain is straightforward and dependable
Rotating the pedals backward activates the coaster brake
Mounted with a front tire, seat, and adjustable wheels for convenience
Additional Info
Available colors: Pluto 2.0 oil slick, fuchsia, golden, black and more
Warranty: Contact customer service
Assembly: 85% of the bike is already assembled
Pros
Safe to ride

Easy to assemble

Comfortable seat position

Bike requires minimum maintenance

Chainguard to keep children safe from the chain rope
Cons
Handbrake needs to be improved
Diamondback is the best BMX bike for kids and it is excellent for off-road riders. During off-road adventures, knobby tires stay firmly planted.
Training wheels are included to assist your kid to remain upright while learning the fundamentals of balance and pedaling. As children grow, the seat post and stem can be raised to accommodate them until they are ready for a larger bike. This best BMX bike of 2023 is suitable for riders 38"- 45" tall and aged 3-6 years.
Main features
Climbing hills is made easier by a single-speed drivetrain with 140mm cranks and a 36T chainring
Adjustable and removable as they gain confidence and skill
Coaster brake has plenty of stopping power and is simple to use, while a chain guard keeps skin and clothing safe
Additional Info
Available colors: Blue & cyan
Warranty: Limited lifetime warranty
Assembly: Simple to assembly
Pros
Adjustable

Strong tensile frame

Coastal brakes for a quick stop

Training wheels are included
Cons
Simple design when compared to other BMX bikes in the market
Things To Be Considered While Buying Best Budget BMX Bikes
In order to buy the best BMX bike in 2023, it's important to consider a few factors regardless of the type of riding you plan on doing. Just a reminder that a good BMX bike brand will provide a detailed breakdown of the bike's specifications. Continue reading to find out what to consider when searching for the best BMX bike.
1. Pick the right size
Small differences in size may appear insignificant, but they can drastically alter the feel of a bike. The top tube length is the next sizing consideration. The majority of freestyle bikes will have a tube length between 19.5" and 21". It's an ideal size for smaller riders because it makes it easier for them to reach the handlebars. The longer top tube makes it easier to perform tricks in the air, such as swinging the bike underneath or spinning the bars.
2. Weight capacity
A complete lightweight bike usually means it has some good parts and is made of high-quality materials. However, you should not be afraid of slightly heavier bikes at first. Before you can benefit from light bikes, you must first learn a lot. However, if you begin riding frequently, a lighter bike will allow you to maintain better control and ride for longer periods of time.
3. Material
Chromoly, a strong, lightweight steel alloy, is commonly used to make frames, forks, and bars. It is a prevalent choice because it is resistant to the stresses that BMX bikes experience from repeated jumps. It also provides adherence to absorb the hits that a rider would encounter. Entry-level bikes are mostly made of high-tensile steel but it makes them heavy and less strong.
Aluminum is commonly used to build BMX frames because it is weightless and can be used to make rigid frames. This stiffness provides each pedal stroke propels the bike forward as quickly as possible. Sturdier models are more stable in construction and thus suitable for more rugged terrains.
4. Style
Again the style you want should be based on your intended usage. Riding styles for BMX are divided into several disciplines, including freestyle, trail, and racing. There are numerous BMX models that are designed for specific events. If you intend to use your BMX for trail racing or riding, you will not want one designed for performing freestyle tricks. Likewise, you have to choose one according to the intended purpose.
5. Suspension fork
A BMX fork connects the frame to the front wheel and is an essential part of the bike. It is crucial for the construction of any type of bike and must be effectively reinforced. When riding difficult trails, it's especially important to have a strong fork. For added strength, some forks are made of Chromoly.
6. Handlebars
Aside from weight and strength distinctions, the BMX bar and the others have a slight variation in handlebar shape. Freestyle and jump bars have a steeper rise from the clamping area to allow the rider more space for action while performing flatland and airborne tricks. In addition, bars on 24-inch BMX and jumpers will be more downward rising than those on 20-inch bikes.
7. Rims
For freestyle bikes, the standard rim width is 32mm. Riders who expect to put a few more hard hits on the wheels can choose a wider 36mm rim. Usually, rims are made of aluminum and can be single, double, or triple walled; the more metal layers provide more structural support, but at the expense of increased weight.
The majority of riders prefer double-wall standards because they provide a good balance of strength and weight. Advanced riders who place higher demands on their equipment will typically have wheels built aftermarket to their exact specifications and will be more selective with rims and spoke count.
Frequently Asked Questions
Since there are so many options available on the market, you should have some questions about BMX bikes. Here is a list of some of the more common questions.
1. What is the average price of a BMX bike?
You can expect the price of the BMX bike to vary significantly from brand to brand, from the material it is made of to whether you are buying a beginner or professional model. A beginner BMX bike will cost around $250. Anything less and the quality will suffer, potentially making the bike unsafe.
Intermediate and professional BMX bikes will cost between $400 and $600, possibly more if you want a specialized racing or freestyle bike. A low-cost but high-quality BMX bike will cost around $500, but an incredible bike for professionals will cost well over $3000.
2. How adults can ride 20" BMX bikes?
Safety equipment is necessary when riding a bike of this size since the frame and wheels are smaller and are harder to control and coordinate. In general, smaller BMX bikes are easier to control in the air because there are fewer bikes to get in the way of you successfully completing your tricks.
3. Do BMX bikes have gears?
BMX bikes typically have a single gear that can be adjusted to help the rider achieve their objectives. Tall and short gearing are the two types of gearing, with tall making pedaling more difficult and short making pedaling easier. Tall gearing allows riders to accelerate quickly, making it the preferred style among racers. Each bike has a different gear ratio, which is the number of times your back wheel spins as you turn the pedals. Depending on your riding style, this can be easily adjusted to be tall or short.
4. What is the difference between a BMX and a mountain bike?
Mountain bikes are designed for tough trails and off-roading, so they have much larger wheels and plenty of gears to handle uneven terrain. BMX bikes have 20" tires and a single gear matched by sprocket size to provide drive to the machine. For the best takeoffs, BMX bikes also have very firm suspension or no suspension at all. Check the gearing ratio that comes with your new bike and experiment with what feels best for you.
5. What size BMX should I get?
The smallest BMX bike frame size is micro-mini, followed by mini, junior, expert, expert XL, pro, and pro XL.
6. What kind of pedals and cranks do BMX bikes have?
The flat pedals are made of plastic or metal and allow the rider to perform tricks by removing their feet from them. They also provide enough grip for gaining control when landing hard. BMX bike crank arms are the metal bars that connect the bottom bracket and pedals. Furthermore, they are needed to maintain bike stability so riders can perform technical tricks.
7. What materials are the best BMX bikes of 2023 made of?
Chromoly: Chromoly is the preferred material for professionals and experienced riders due to its lighter weight. Due to the demanding nature of BMX riding, the frames must be strong while also being agile and light enough to perform quick movements and get airborne. High tensile steel is the most common material used in lower-cost models.
Aluminium: BMX race bikes are ridden on less technical courses, they require maximum stiffness and speed for power transfer.
Conclusion
We discussed various types of best BMX bikes of 2023 each of which is unique in its own way and is suitable for different people with different tastes. We have mentioned the best features and components that you should look for in a BMX bike.
Apart from listing various BMX bikes, we also discussed how to buy the really best budget BMX bike and what to look for. Set a budget for yourself and compare prices to find the best deal within that budget. Finally, consider these factors, and have a good idea of what you want and where you'll ride, to ensure you get the right BMX bike. Don't forget to protect your skin while biking as well.
Which BMX bike are you currently using? Share your thoughts in the comments section below.