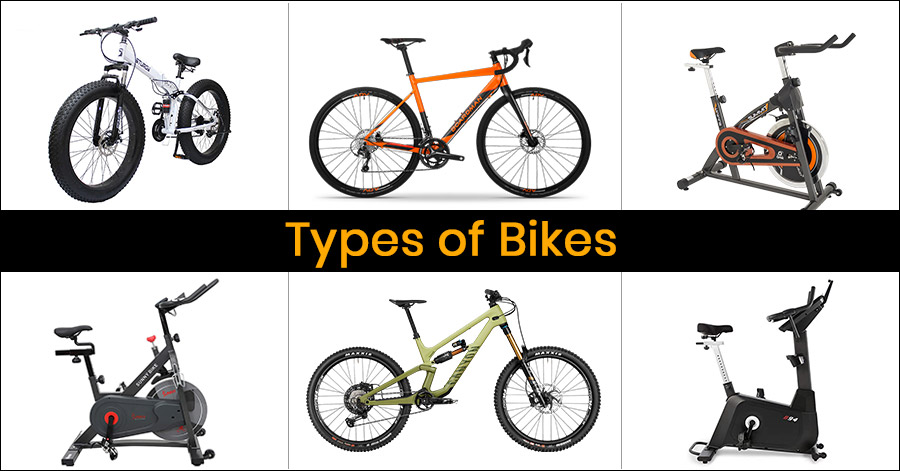 Types of Bikes – A Complete Beginner's Guide
When deciding to buy the best type of bike, there's a lot to consider from usage to location type. Finding the best bike can be difficult with so many different types of bikes available in the market. That is why we are here to assist you.
This article covers everything about the various types of bikes, including some that are less well-known.
So, without further ado, let's get going!
What Are the Best Types of Bikes in 2023?
This article will provide information on the types of bikes available in the market, as well as their features.
The design of a stationary bike is similar to that of a standard bicycle, with the pedals located beneath the body. Most stationary bikes monitor distance, speed, resistance, calories burned, heart rate, and revolutions per minute.
Some stationary bikes come with an emergency stop button to use if you need to abruptly stop your ride. These bikes are available in upright, recumbent, and spin configurations. Overall, a stationary bike is an excellent way to stay active during different weather conditions. ‌
Here are the different types of stationary bikes available in the market.
Recumbent Bike
A recumbent bike is a type of bicycle that allows the rider to sit back and relax while cycling. It can reduce lower pain and put less strain on the knees and hips. Before you buy, make sure you check out the dimensions, as it takes more storage space. Recumbent bikes have semi-reclined seats, making them more comfortable. A recumbent bike can burn up to 900 calories in an hour of high-intensity exercise. Most of our recumbent bikes have at least 8 levels of resistance, with some having up to 24 levels to really test your fitness and body for even more calorie-burning potential.
Upright Bike
An upright stationary bike is similar in design to an outdoor bike. The seat is narrow, and the pedals are aligned beneath your body. This type of bike provides a total-body workout by engaging all your muscles. The handlebars are closer and higher to the user than a traditional cycle bike, encouraging an upright posture. Upright bikes have the smallest footprint and will take up the least amount of space in your home gym. Overall, upright bikes have everything you could want for a comfortable and challenging workout.
Spinner Bike
Commercial spin bikes are typically found in gyms, but you can have your own spin bike as well. Spin bikes differ from recumbent and upright stationary bikes, as the rider must bend over towards the front while spinning the pedals. Spin bikes are generally less expensive than other types, so you can get them at a reasonable cost. Bending over while riding works the abdominal muscle groups in your core more effectively. Spin bikes provide a more intense cardio workout, allowing you to build fitness faster and lose weight. Spin bikes are generally smaller and easier to store.
| | |
| --- | --- |
| | Used for exercise purposes only |
| | |
| | May come with transport wheels that will allow you to easily store the bike between workouts. |
| | Adjustable handlebar according to your height |
| | Generally, the bike rate starts at $500. Recumbent average models cost around $1,500, but high-end models can cost up to $5,000. |
Among the types of exercise bikes, air bikes stand out from the crowd. Wind resistance is used to add resistance in air bikes, which are equipped with a large fan. It is a low-impact exercise machine that provides a full-body workout. An air bike can help you achieve all of your fitness goals, from strengthening upper and lower body muscles to burning calories.
Some air bikes include wheels, which can be useful if you want to move your bike frequently. Most air bikes have monitors that display information like heart rate, distance traveled, workout duration, and calories burned. Workout statistics and training programs can be displayed on digital monitors.
| | |
| --- | --- |
| | Used for exercise purposes only |
| | |
| | May come with transport wheels that will allow you to easily store the bike between workouts. |
| | |
| | Starts from $500 and may go above $800 |
3. Dual Action Exercise Bike
This type of fitness equipment can be found in most modern gyms and fitness centers. It is an excellent choice for a low-impact workout that provides a high level of aerobic and cardiovascular exercise. These bikes are made up of a standard bicycle mounted on a frame that is raised slightly above the ground.
Dual-action exercise bikes allow you to work both the upper and lower body at the same time. When performing the arm motion on a dual-action bike, the movement will be gentle on joint muscles such as your hips, lower spine, and knee joints. This is due to the reclining bike's low-impact nature. For these reasons, rehabilitation centers use dual-action bikes to help those who have been injured to get some exercise.
The arm motion of the dual-action bicycle is similar to that of an elliptical machine. The seat is cushioned, and the fan wheel rotates to provide a cooling breeze. Workout data includes heart rate, calories burned, total distance traveled, time spent riding the bike, and speed. Despite being lightweight, the bike is very stable, so it will not wobble when riding. As a result, a dual-action bike is a good option if you have joint aches.
| | |
| --- | --- |
| | Used for exercise purposes only |
| | |
| | May come with transport wheels that will allow you to easily store the bike between workouts. |
| | |
| | Starts from $600 and may go above $1000 |
4. BMX (Bicycle Motor Cross) Bike
BMX bikes are ideal for people who want to perform tricks and jumps on their bikes. They have small frames, a single gear, and twenty-inch wheels, making them not only strong but also low-maintenance when compared to a standard bicycle. These bikes typically have only one gear, allowing the rider to pedal in both directions (go forward and backward). Plus, BMX bike styles have rigid forks.
Front and rear brakes will be standard on these bikes. They have a 360° rotational axis as well as lengthening tubes from the front and back tire hub collar which is used to perform stunts. Even though BMX bikes are small in size, they are more powerful and can sustain the weight of an average adult. The gearing on a BMX bike differs from that of a road or mountain bike with multiple gears.
| | |
| --- | --- |
| | For performing jumps, tricks, and stunts. Not suitable for riding on roads |
| | Chromoly steel or aluminum |
| | BMX protective gear is 26" |
| | Rear brakes and linear-pull brakes |
| | Available in 12", 14", 16", 18", 20" and 24" |
| | Aren't designed for suspension forks |
| | High carbon steel handlebar |
| | Starts from $200 and may go above $1300 |
Gravel bikes are lightweight racing bikes designed for use on mild off-road terrains such as dirt roads, fire roads, country lanes, and smooth singletrack. Gravel bikes are typically equipped with relatively thick road tires in the 40mm range.
Adventure-ready features like disc brakes, extra clearance for wider tires allow these bikes to adapt everything from rough terrain to winter exploration. This makes them excellent all-around bikes for recreational riders who ride on a variety of off-road and on-road surfaces.
| | |
| --- | --- |
| | Suitable for multi-terrain excursions such as gravel roads, forest tracks, trails, byways, bridle paths, and bikepacking adventures. |
| | Aluminum alloy, steel, and carbon frame |
| | 28t to 48t chainring, but most gravel build go with a 42 |
| | Cable-actuated and hydraulic disc brakes |
| | 38 to 42 mm width. 700c wheels are the ideal choice for gravel riders |
| | Can add a limited-travel twin stanchion MTB fork |
| | |
| | Starts from $1000 and may go about $1500 |
Hybrid bikes are also known as commuter bikes. They are a good alternative to road bikes because they are sturdy and more durable than traditional road bikes. The hybrid bike has the same wheel size as most road bikes and a similar design to a cyclocross bike. Handlebars on the hybrid bikes are straight rather than the traditional drop bars. Many hybrids are outfitted with the standard 700c tires found on road bikes.
The average hybrid weighs approximately 28 pounds, but there are models that can weigh up to 32 pounds. Disc brakes will be standard on higher-end models. Some models include front and rear suspension in the seat post. Hybrids are suitable for light to moderate off-road riding, touring, commuting, and recreational purposes.
| | |
| --- | --- |
| | Casual riding around the neighborhood or bike paths, short-distance commuting, and running errands. |
| | Aluminum alloy, steel, and carbon fiber |
| | Most bikes will need a front derailleur and an extra chainring or 2 to attain more than 7 speeds. |
| | |
| | 700c hybrid tires are normally between 35mm and 45mm. |
| | No suspension: Many hybrid bikes do not include any as suspension forks add weight and can make pedaling less efficient |
| | Flat and straight handlebars |
| | From $150 and may go above $500 |
Road bikes are designed for speed, with narrow tires that will allow you to travel quickly on paved roads. These bikes have wing-shaped frame tubes and wheels to minimize drag to a bare minimum.
Most road bikes' gear systems have a wide range of speeds, allowing you to find the perfect setting for everything from fast speeds to climbing. A road bike can handle a wide range of recreational excursions, from racing to group rides to solo spins.
Traveling at suitable speeds will require less total effort, and you should have a considerably smoother ride on standard highways and flat terrains. These bikes are designed with the lightest materials, although they may not be as good for all-around use.
| | |
| --- | --- |
| | Roads, bike paths, racing, touring, triathlon, and on any hard smooth surface |
| | Aluminum alloy, and carbon fiber |
| | Pulling off gear, a low gear, and a high gear |
| | Rim brakes and disc brakes |
| | |
| | Most don't come with a suspension fork as it absorbs more pedal energy |
| | Drop bars and gear shifters |
| | Starts from $700 and may go above $1500 |
8. Mountain Bikes
Mountain bikes can handle a variety of terrains depending on the model. They have a light frame, front or full suspension, wide knobby tires, strong wheels, powerful brakes, and lower gear ratios for climbing steep terrain. These bikes have lower gears than road bikes, allowing you to ride up on more difficult terrain.
A mountain bike is built to be quick, nimble, and responsive, but it also has features that allow it to handle the difficulties that off-road terrain might present. This can include bumps, huge rocks, tree roots, and a variety of other variations.
Trail Bikes
The most common sort of mountain bike is the trail bike, which is ideal for everyday use. They have a very versatile design and seek to be an all-around mountain bike that can handle difficult trails while also providing ample speed, a low weight, and increased comfort. These motorbikes are available with both front and full suspension, and prices range from low to high. They can descend well but are better suited to ascending and flatter terrain. It can handle tough singletrack and mountain routes, but when the need comes, they are speedy on smoother off-roads.
Cross-Country Bikes
Cross-country bikes are known as XC mountain bikes. This type of riding includes some harder terrain on occasion, but it mostly consists of smoother, and flat off-road paths. Cross country riding emphasizes speed and endurance, which is reflected in the bike's design. XC bikes are typically light, with a less aggressive frame shape that is better suited to climbs and flat terrain. The majority of cross country mountain bikes include front suspension and maintain pedaling speed.
Fat Bikes
Fat bikes are a relatively new mountain bike design that has grown in popularity over the last few years. A fat bike features tires that are 3.8 inches (97 mm) or larger, as well as rims that are 2.6 inches (66 mm) or wider. This is made for riding on soft, unstable terrain like snow, sand, or mud with low ground pressure. When riding on loose ground, the tires' broad stance gives overall traction and efficiency.
Downhill Bikes
Downhill bikes are exclusively built for descending. They have a slack frame design that keeps the rider in a more comfortable and controlled position. Full suspension is always used on a downhill bike, with plenty of travel in both the front and back. The additional travel is required to provide resistance to impact at high speeds, as well as to handle the stress of high drops over cliffs and jumps.
| | |
| --- | --- |
| | Mountain trails, single track, fire roads, and other unpaved surfaces |
| | |
| | Chainrings, cassette, chain, front/rear derailleurs, and front/rear shifters. |
| | V brakes, Y brakes, and dual disc brakes |
| | |
| | |
| | Straight and wide handlebars |
| | From $400 and may go above $800. |
Riding an e-bike is similar to riding a traditional bike but with the added benefit of an electric motor. Electric bikes can help to simplify daily routines while also expanding the possibilities for sweat-free pedaling. Most e-bikes have battery-powered pedal assistance.
This electric bike can help to reduce the strain and impact on your knees and thighs. With specific boosting technology, you can conquer hills and inclines, so you don't have to worry about any difficult terrain. You can also ride with more power and precision than on a standard bike.
Furthermore, you can ride for longer periods of time without becoming physically exhausted. Before buying an electric bike, you should experiment as power and speed vary according to the models.
There are three types of electric bikes, each with its own acceleration and top speed:
Class 1 is a pedal-assist vehicle with no throttle.

Class 2 has a throttle assist and has a top speed of 20 mph.

Class 3 lacks a throttle, can reach speeds of up to 28 mph.
When riding an e-bike, the display will show how fast you are traveling and how far you have traveled. Generally, e-bikes can provide up to 80 kilometers of pedal assistance before needing to be recharged, depending on the model.
| | |
| --- | --- |
| | Haul heavier goods, run errands, take larger trips, and off-roading or rough terrain |
| | |
| | Most of the e-bikes are free from gears, but some of the models have gears such as derailleur gears with hub gears |
| | Mechanical disc brake system |
| | Equipped with a 16", 20", or 26" inch diameter wheel. |
| | |
| | |
| | Price range vary from $500 to more than $5,000 |
Conclusion
Finding the types of bikes that fulfill all of your needs is preferable. This is why it's critical to know exactly what you want in a bike before looking at the various possibilities. Having enjoyment while riding your bike will increase the likelihood that you will use it and enhance your health. Hope this article will help you in selecting the ideal bike for your budget and goal.
Knowing what type of riding you intend to do with your bike will help you decide what type of bike to buy in 2023. Some riders prefer paved roads, while others prefer rocky trails.
Disclaimer - The images inside the article were collected from the internet. We do not own any of them.