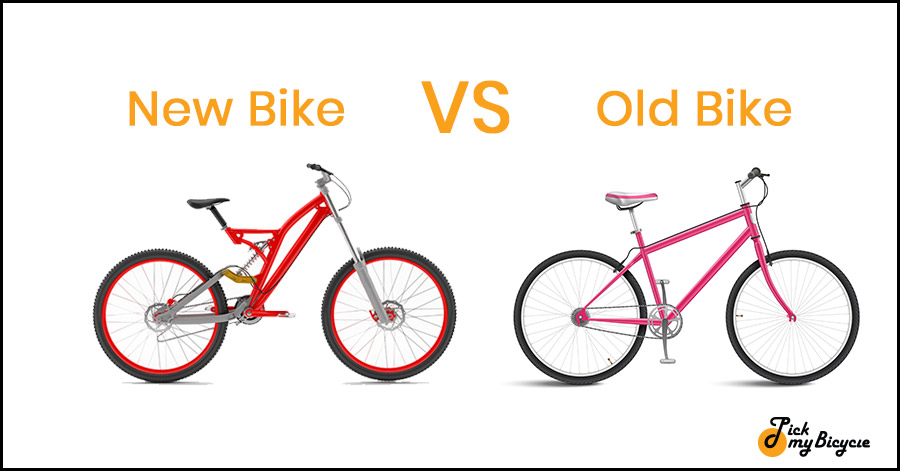 Should I Buy a New or Old Bike?
Bicycles and cycling have become popular nowadays among people. However, deciding whether to get a new bike or an old bike is a big struggle.
Buying a bicycle must be a careful consideration be it an old or new bike. You must know the pros and cons of buying an old and new bicycle. There are many factors that you need to look into before you make any decision. From bike frames to other components, everything is important in a bike because it decides its lifetime.
Every penny you spend on your bike must be worth buying it. This article covers everything you need to know before buying an old or new bicycle. From guidance to pros and cons, we will explain everything. Please note that no matter which type of bike you decide to buy, always buy a helmet to protect yourself.
Advantages & Disadvantages of New Bicycle
As the name says, the bike is completely new and you will be the one using it for the first time
The bike will last longer if you maintain it properly and you can sell it for a good price later if you change your mind
The manufacturer's warranty is applicable only to new bicycles and first-time buyers
If you buy a new bike, in the event of any repairs, you can return or replace it using the warranty the manufacturer gives
When you buy a new bike, the frames, colors, and other options are unlimited
You can also try a particular model of the bike before buying a new one. More assistance will be given to you, and the store member will help you with installation if you are buying a new bike
When you are buying a new bike online, you can even buy it at a discount
The cost of the bike is one disadvantage when it comes to new bikes. A new bike can be more expensive than a used one
If you are buying a new bicycle online, you might need someone to help you assemble the bike
A new bike will have a higher depreciation value than a used one
Advantages and Disadvantages of a Used Bicycle
Cost is one great advantage of used bikes. You can easily find the similar bike you were looking for at a very affordable price
A better-used bike can be bought with the amount you were going to spend on the new one
You don't have to wait for a used bike. You would already be riding at the time you get your new bike
Getting a second-hand bike is a good choice for beginners. If you are starting out cycling, you can save money and try it out with used bikes
By purchasing a used bike you act in a sustainable way showing respect for the environment because bicycle production leaves an ecological footprint
The used good industry also boosts the economy. If anyone is selling their bike, they probably might get a new one or need the cash for other needs
As they are already used, you will have no difficulty in riding them or training the bike to your control
There is no need to worry about manufacturing defects in used bikes.
A used bike has a lot of extras added to them by the previous owner, so if you are getting a bike as such, all you need to buy extra is a helmet
There will be more wear and tear in used bikes and you may have to spend money on maintenance. Sometimes the worn-out parts of the bike may be hard to replace due to model versions
It could take a while for you to find out if you are looking for a particular bike
Usually, there is no bike warranty for used bikes.
You need to check for damages carefully before buying a second-hand bike
If you are buying a second-hand bike online, be careful because there are a lot of scams going online these days
Bikes that are available for a very low cost may have hidden issues on them. So be careful from whom you are buying it.
Frequently Asked Questions
1. Are bikes worth buying back?
Generally speaking, bicycles are not designed to keep their value forever. Their parts might be worn out from using it or due to other reasons. It sometimes needs replacing and repairs. You can lose around a minimum of 50% of its value in the first year.
2. Is investing in a new bike a good move?
Whether it's a mountain bike, hybrid bike, electric bike, or exercise bike it depends on how much commitment you are ready to give to your new bike. That includes bike maintenance and inspecting the bike every once in a while. This way, you can spend a lot of happy years with your bike. Owning a bike cut your other costs such as your daily commuting, fuel costs, and gym fee because cycling itself is a great exercise.
3. Is buying a used bike worth it?
You can get a better return on your investment if you carefully choose the bike. Take someone with you who has a better understanding of bike mechanics and their functionality. You must carefully inspect the bike parts for any damage.
Conclusion
Bikes are a great companion and you must carefully choose your riding partner. Now you are aware of the benefits and disadvantages of new and old bikes, you can now make an informed decision about buying any bicycle you want. Write to us if you have any questions or doubts in the comments box and we will get back to you soon.